Kedarji shares research data on curing and preventing SARS-COV2 Coronavirus without vaccination. And herd immunity without a vaccine. About this contributor.
See What Is A Virus? Blog
Want to contribute to this blog? Email us.
Email This Post To A Friend
REFERENCES THAT SUPPORT THIS INSTALLMENT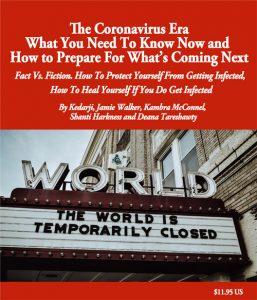 The Coronavirus Era – What You Need To Know Now and How to Prepare For What's Coming Next – eBook download.
UNDERSTANDING THE DANGERS OF THE COVID-19 RESPONSE. BY DR. KELLY VICTORY (This video was banned on YouTube and Facebook due to their censorship polices)
Dr. Simone Gold and medical group – On a break from the summit, they held a press conference on the steps of the Supreme Court. Watch the video of that press conference that was later censored
The above video got more than 17 million views on YouTube. It was quickly taken down and also censored from Google, Facebook, Instagram and references/links to it from Twitter were also censored. Shortly after this, Dr. Simone Gold was fired from her job in emergency medical practice and her domain name used for her website (which she owns) was disabled.
You can hear about this in her own words in a Fox News interview
They have a new web site that you should review here
https://americasfrontlinedoctorsummit.com/
View the videos and then ask yourself why would government and big business censor Dr. Gold and her team of doctors, violating her right to free speech protected by the first Amendment? Are you aware that Facebook, YouTube, Instagram and Google are heavily financed by Big Pharma?
ADDITIONAL REFERENCES FOR THIS BLOG
1. Rath Research Institute ACE2 receptor research
2. Dr. Mathias Rath on Micronutrient applications for preventing and curing Covid
T-CELL IMMUNITY TO COVID
3. Studies Suggest T Cells Important in Fighting Coronavirus
https://learningenglish.voanews.com/a/studies-suggest-t-cells-important-in-fighting-coronavirus/5502429.html
4. The people with hidden immunity against Covid-19
https://www.bbc.com/future/article/20200716-the-people-with-hidden-protection-from-covid-19
5. Karl Friston: up to 80% not even susceptible to Covid-19
https://unherd.com/2020/06/karl-friston-up-to-80-not-even-susceptible-to-covid-19/
6. Coronavirus: Levels of herd immunity in UK may already be high enough to prevent second wave, study suggests
https://www.independent.co.uk/news/health/coronavirus-herd-immunity-second-wave-oxford-study-boris-johnson-a9623791.html
7. Different pattern of pre-existing SARS-COV-2 specific T cell immunity in SARS-recovered and uninfected individuals
https://www.biorxiv.org/content/10.1101/2020.05.26.115832v1
8. The impact of host resistance on cumulative mortality and the threshold of herd immunity for SARS-CoV-2
https://www.medrxiv.org/content/10.1101/2020.07.15.20154294v1
9. SARS-CoV-2 T-cell epitopes define heterologous and COVID-19-induced T-cell recognition
https://www.immunology.ox.ac.uk/covid-19/covid-19-immunology-literature-reviews/sars-cov-2-t-cell-epitopes-define-heterologous-and-covid-19-induced-t-cell-recognition